Reversi / Othello
Aim of the game
Reversi / Othello is a board game that was invented in England at the end of the 19th century. Both players set playing stones of their color and try to change the color of as many of his opponent's stones as possible into his own color. Each player has to fence in his opponent's stones in order to turn these over and display his own color.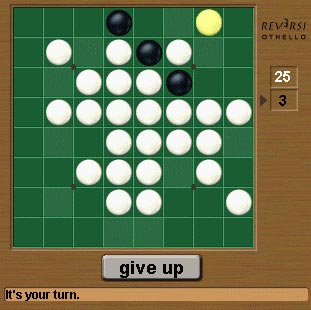 Start game
When opening the game, you can choose from between two variations of the game: "Reversi" and "Othello". The only difference is the set-up of the stones in the middle at the start: Reversi starts with two parallel rows, and Othello with two crossed rows.

Game progression
During a move, each player must fence in at least one of his opponent's stones in a row. Fencing in means placing a stone such that one or several of the opponent's rows are fenced in horizontally, vertically or diagonally on both sides by his own stones. There can be no empty spaces in between.
Only the rows which are fenced in by the stone placed last count. Admissible fields are displayed by the mouse which then turns into a cross and the field lights up.
If no fencing in is possible, the player will be informed accordingly and the it's his opponent's turn.
Winning
The games ends as soon as neither of the players can set his stones. Whoever has the most stones in his color at the end wins the game.
You can find more information on the game here...
Search the Internet for "Reversi"
Search the Internet for "Othello"