Stratego
Stratego is a strategy game which is played using hidden cards and calls for a good memory. The aim of the game is to conquer your opponent's flag (=apple) or to make him immobile.
Game set-up
Each player has 40 playing cards at his disposal which contain twelve different animals and objects. They are divided as follows:
| | | | |
| --- | --- | --- | --- |
| | 1x elephant (1) | | 4x wolf (7) |
| | 1x grizzly (2) | | 5x fox (8) |
| | 2x rhino (3) | | 8x rabbit (9) |
| | 3x gorilla (4) | | 1x mouse (10) |
| | 4x lion (5) | | 6x trap |
| | 4x tiger (6) | | 1x apple (flag) |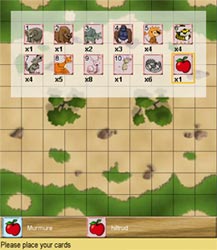 The playing field is divided up into 10x10 spaces Each player has his own set-up zone, comprising the four lower levels of his own side. The figures are set up here according to the player's wishes.
In order to do this, you can highlight the desired playing figure in the upper selection field and place the figure with a click on an empty space.
Should you wish to change the positions, you can remove the figure with a click and insert it back into the selection field. Once you have placed all your figures and are satisfied with the set-up, simply click on the "Ready" button.
Once your opponent is ready, his cards will appear hidden on the other half of the playing field.
The game begins once both players are ready.

Game progression
Generally, each playing figure can be moved by exactly one space either horizontally or vertically. Figures may also be moved to empty spaces or those occupied by the opponent.
Exceptions:

Rabbit (9): may be moved to as many spaces as the player wants
Trap and apple (flag): may not be moved

When moving, the opponent's figures remain hidden. But if the target space is already occupied by an opposing figure, this counts as a fight. As such, both cards will be temporarily disclosed and the following rules apply:

The figure with the lower number wins
With two equal figures, both lose and are removed
The trap wins against all the other figures, except against the fox (8)
The mouse (10) wins against the elephant (1) when the mouse is the attacker
The apple (flag) loses to every other figure
After the fight, the losing figure will be removed, and the winning figure will be moved to the target space if it still exists. After that, all the opposing cards will be hidden again.
Winning
A player has won the game as soon as he has conquered the apple (flag) of his opponent, or his opponent can no longer move because he does not have any more animals, or because he can no longer move his figures.